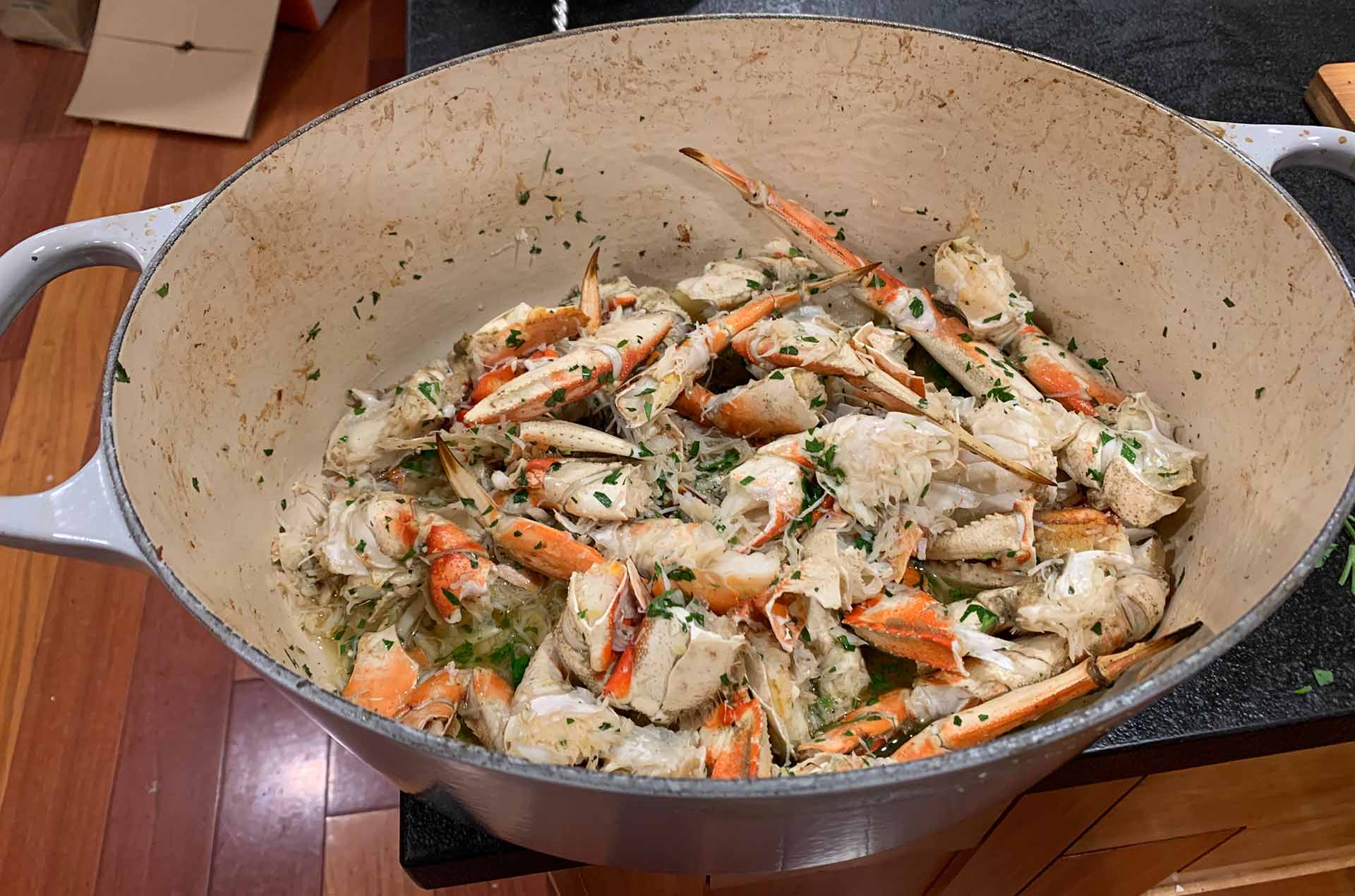 Key Measures:
Ready In: 60 min (including time to preheat oven)
Serves:  4
Degree of Difficulty: Easy
Ingredients:
4 large Dungeness Crabs, cracked and cleaned
1 stick of unsalted butter
1/2 cup olive oil
8-10 cloves of garlic
1 teaspoon red pepper chili flakes
Salt and pepper to taste
1 large lemon
1/4 cup finely chopped fresh Italian parsley

6 fresh basil leaves
Planning & Prep:
Purchase a large dutch oven (at least 8 quarts) that can withstand very high temperatures of 600 degrees or more. Read the fine print carefully to make sure the handles and knobs won't melt. These things are not cheap, but defnitely worth the expense
If your oven does not go above 500 degrees, use an outside grill or other heating apparatus where you have pretty good control over the temperature
When shopping, it is important to get only the best ingredients, or the dish will not turn out:

Buy the crab from an upscale store (at least Whole Foods quality) and have the fishmonger crack and clean the crabs while you do the rest of the shopping
Only buy regular olive oil that is imported from Italy, do not use extra-virgin olive oil
Buy fresh herbs, do not use dried herbs
Buy organic ingredients from local farms, if possible

Start preheating your oven to 550 degrees. Allow a good 30 min. for your oven to heat up. If your oven only goes to 500 degrees, that's okay, just let the crab cook for a little bit longer.
Get all equipment out and ready to go:

8-10 quart dutch oven
Chopping board
Chef's knife, sharpened
Lemon squeezer
Nutcracker (in case the crab needs to be cracked a little more).
Measuring cups and spoons
Large mixing bowl (used as an easy-access trash bin)
Large mixing spoon (wooden, silicon, etc.) with a long handle for stirring the crab in the dutch oven
Cereal bowl with water (used as an easy-access sink for small spoons, etc.)
Two small containers (e.g., bowls): one for the lemon juice and the other for the herbs
Kitchen towel, tucked into your waistband for easy access
Oven mitts
Hot pads and/or trivets

Prepare your ingredients

Lay out all the ingredients in the prep area, close to the chopping board
Unwrap and inspect the crab. It should look and smell fresh but not too fishy. Make sure it is cracked well. You may want to do some additional cracking, for instance with the claws
Smash and then mince the garlic cloves. Discard the peels into the mixing bowl as you go
Squeeze out the lemon juice from the lemon into a small container and discard the peel, etc. into the mixing bowl
Chop up the fresh parsley and basil, and store in a small container
Execution & Risk Management:
Wait for your oven to reach 550 degrees (or 500 degrees if that is as high as your oven goes)
Put the butter and olive oil in the dutch oven
Put the dutch oven in the oven (without the lid) for a few minutes to melt the butter and heat the bowl. Keep a close eye on the butter so it does not burn
Carefully pull the dutch oven out using the oven mitts and place on hot pads or trivets
Add all the crab to the dutch oven and give it a quick stir. Be careful not to touch the hot dutch oven!
Add salt, pepper, and red chili pepper to taste, and give it another good toss to incorporate everything. Be careful not to mess the crab up too much. You just want to coat everything well, not mash everything together.
Put the lid on the dutch oven and bake the crab at 550 degrees for 5 minutes (add a minute or two if your baking at 500 degrees)

Start thinking about Go-Live at this point (see below)

Pull the crab out to check on things and give it another good toss.
Put the lid back on and bake the crab for another 5 minutes
Pull the crab out again to check on things. By this time, the garlic should smell pretty strong and have a nice golden brown color. If that's not the case, pop the crab back in the oven for just a couple minutes more
Once the crab looks and smells fantastic, add the lemon juice and herbs, and give it one final toss
Go Live!
Go live is pretty simple for this dish, here's what you will need for each person:

Serving bowl to hold the crab
Similar bowl to hold discarded shells
Nutcracker (the same one you use for, well, nuts)
Tiny crab fork
Lots, and lots, and lots of napkins
(Optional) Bib

Ask each person what their crab part preference is. Some people like claws, others like the body, and some people just want legs
Plate the initial crab for your diners, at least for the first round. The dutch oven is very, vey hot when it comes out of the oven, so you want to control the first dish
It's a nice touch to use the dutch oven with the unserved crab as a centerpiece, but again, warn your guests that it is very, very, hot. They should be pre-occupied with the crab in front of them, but you can never be too safe when it comes to hot pots
Italian bread goes very nicely with this crab, so that's a nice touch as well
Enjoy!
Lessons Learned:
The keys to making this dish work is using only the best ingredients and keeping it simple. The same goes for organizations. You need to select talented people into your organization, and then just let them do what they do best. If you are spending a lot of energy trying to "fix" your organization, you are probably not giving the right jobs to the right people.